Quality Water Service Repair & Installation in The Tri-State Area
MOR Construction is your go-to source for all your commercial water utility needs. Our team of professional excavators specialize in repairing, installing and maintaining underground utilities. We are experts in water main repair, drain cleaning services, fire hydrant installation, and more. Our focus is on the accuracy and precision of our work, and we take care of our customers from initial consultation through final inspection. Our expertise and experience can help you get exactly what you need from the underground water utility lines up to the finished streetscape!
Water Utility Specialists
---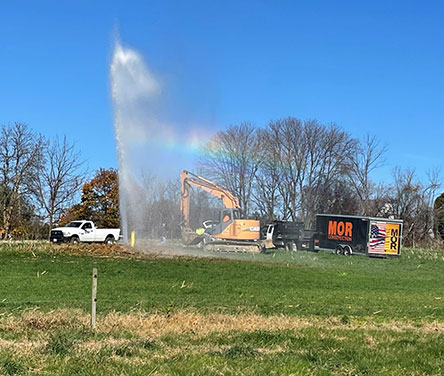 MOR Construction has been in the business for over 20 years and has established a reputation for quality workmanship and customer service. Our team understands that time is of the essence and can handle any water main repair or replacement quickly. Our team is highly trained in all aspects of water main and line service and will go the extra mile to ensure your project receives the most durable solutions. Get in touch with our water utility specialists today to discuss your water main's needs.