Pennsylvania's Yard Drainage Solutions and Site Grading Services
Water pooling in your home's front yard can be a nightmare. If your yard doesn't have the proper drainage systems installed, water can begin to run towards unwanted areas such as your foundation or landscaping. MOR Construction is a company that specializes in site grading and yard drainage systems installation. We are experts in drainage issues and finding solutions to control water, including french drains, catch basins, downspout drainage systems, retaining walls, and storm drains. Our team of experts will work with you to create a custom plan to secure your property and home's foundation from damage caused by poor grading or yard drainage.
Find the Right Drainage Solution for Your Property
---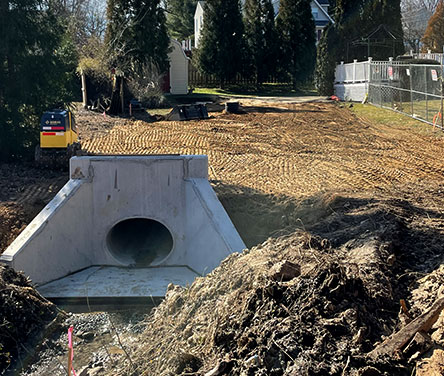 At MOR Construction, we provide cost-effective and durable solutions for diverting water from your property. Our experienced team will work with you to design a drainage system plan for your property and its unique challenges. We specialize in finding the most efficient and effective way to protect your property from the effects of stormwater damage. Contact us today to get started on your grading and yard drainage project.